Govt. Polytechnic College Kathua was established in 2012 and it started functioning from the temporary accommodation in the Building of Kartar Education Trust, NH-1A, Barnoti, Kathua. It is one of the most prestigious institutions of learning in district Kathua. It is at a distance of 80 Km from Jammu and at a distance of 10 Km from the Kathua city. It is well connected by both the Road and Rail links. The College is at the National Highway which connects the J&K state with the rest of the northern states. The college is at a distance of 1.5 Km from the Budhi Railway station. The college campus is well maintained. The district Kathua has rivers like Ravi, Ujh and Sewa. There is a famous temple of Goddess Kali at Jasrota which is at a distance of about 5 Km from the present college location.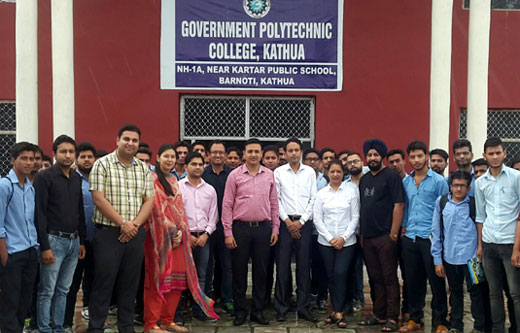 The college presently offers three years diploma courses in Mechanical Engg. and Instrumentation & Control Engg with intake of 60 students in each branch. The college has well equipped Laboratories, Library and Classrooms in limited blocks of Kartar Education Trust, NH-1A, Barnoti, Kathua. At present around 120 students are admitted each year through BOPEE. The total number of students studying in the college at present are approx. 150. The college has permanent and acdameic arrangement faculty to train the students.
The institute was started initially with the following three years Diploma Courses:
| | | |
| --- | --- | --- |
| 1 | Mechanical Engineering | intake 60 |
| 2 | Instrumentation & Control Engineering | intake 60 |
With the best efforts of District Administration of Kathua and J&K Govt., the land for construction of Polytechnic was identified at Badala. It is 8 km away from the present location of the college and the construction is well in progress and expected to complete in 2016.