Debate Competion held at Govt Polytechnic College Kathua
Government Polytechnic College Kathua organized a debate competition in the college campus today to commemorate the 147th birth anniversary of Mahatma Gandhi ji with great zeal and zest in the college campus. The function began with paying homage to the Mahatma Gandhi. The Chief Guest of the function was Er. Arun Bangotra, Principal of the college who while speaking on the occasion narrated the various facets of Mahatma Gandhi and impressed upon the students to adopt the philosophy advocated by Gandhi ji in their day to day life. On this occasion a debate completion on the Topic "Relevance of Gandhian Philosophy in the present Era" was organized in which twelve students participated and threw light on the life and contribution of Mahatma Gandhi.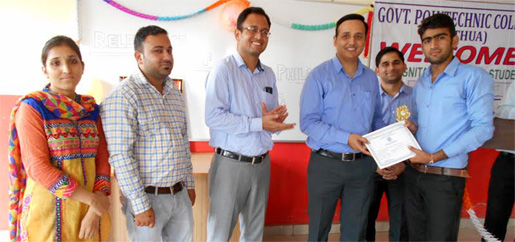 The speakers threw light on Mahatma Gandhi's contribution towards brining peace and non-violence to this world. The speakers expreseed their views and most of them abvocated that non-violence is the only solution to the various issues our coutry is facing today. Mr Raj Kumar of 5th semester won 1st prize while 2nd prize went to Mr. Deepak Sethi of 5th semester and third prize was won by Mr. Shivam Sharma of 1st Semester. Mr. Sheetal Kumar and Mr. Naresh Kumar 5th semester students conducted the proceeding of the programme. Er Ajay thapa, Lecturer, Mechanical was the co-ordinator of the programme. The judges for the competition were Er Sanam Gupta, Ms Neeru Devi and Mr Rajesh Kumar Lecturers of the college. This function was attended by large gathering of teaching, non teaching staff and students.