Extension Lecture held at Govt Polytechnic College Kathua on Digital Banking
Govt Polytechnic College Kathua organized an extension lecture in the college campus on Cashless Transaction for promoting Digital Economy for spreading the awareness among all the staff and students of the college. The programme was presided over by Er. Arun Bangotra Principal of the college who while speaking on the occasion emphasized on Digital India Campaign and Digital Banking Services as most convenient service for modern life.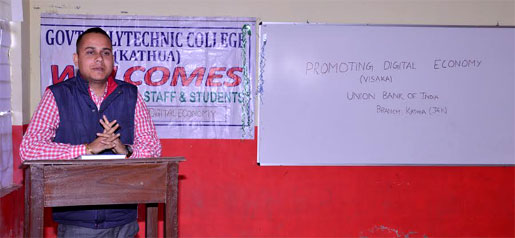 The programme was attended by all the students along with faculty members from different departments of the college. Sh. Sunil Abrol, Asst Branch Manager Union Bank of India, Kathua along with Sh. Arun Sharma was the resource person on the occasion who presented a detailed lecture on Mobile Banking, debit/credit card, E-Banking, E-Wallet and netBanking. The main purpose of the programme was to generate the awareness for promoting Digital economy under Vittiya Saksharta Abhiyaan (VISAKA). The programme was co-ordinated by Er Ajay Thapa, Lecturer, Mechanical Engg Deptt.