Government Polytechnic College Kathua Inagurated By Hon'ble Chief Minister of J&K, Madam Mehbooba Mufti
Government Polytechnic College Kathua was inaugurated on 10-07-2017, by Hon'ble Chief Minister of J&K, Mehbooba Mufti through video conferencing in presence ofHon'ble Deputy Chief Minister, Dr Nirmal Singh, Hon'bleMinister for Technical Education, Youth Services & Sports, Moulvi Imran Raza Ansari, Hon'bleMinister of State for Technical Education, PriyaSethi, Hon'bleMinister of State for Finance & Planning, Ajay Nanda and Hon'ble M.L.A Kathua Sh. Rajeev Jasrotia. A function was held at the new building of the college at Nagri Road near Police Head quarter.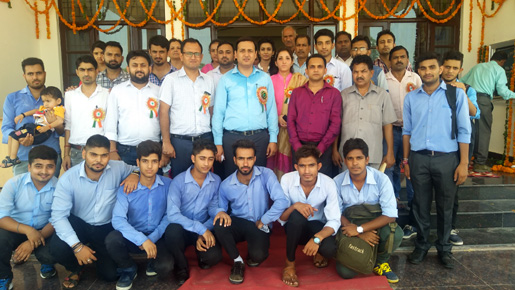 Others who were present in the function were Deputy Commissioner Kathua, Sh. Ramesh Kumar (IAS), SSP KathuaMohdSulemanChoudhary (IPS), ADC, Kathua Dr Bharat Bhushan, Addl, S.P Kathua Khalil Poswal, Principal Government Polytechnic KathuaErArunBangotra, DGM, JKPCC, ErRavinderMansotra, ITI Superintendent Sh. Baldev Raj, staff and students of the college and large number of gathering. The Principal of the college ErArunBangotra welcomed all the dignitaries in the college and gave brief about the new college campus which comprises of 16 laboratories, four workshops, Computer Centre, Seminar Hall, Library and two drawing halls. The college is constructed at a cost of Rs. 13 crore by JKPCC.