Seminar on Career Counselling held at Govt Polytechnic College Kathua
Government Polytechnic College Kathua organized a seminar on Career Counselling for the final semester students in the college campus today. Ms Amrit Kalsi, Manager Corporate Training and Sh. Abhishek Soni Dy. Director Career and Planning Center from CT Group of Institution Amritsar were the resource person on the occasion. The chief Guest of the programme was Er. Arun Bangotra Principal of the college. The programme was attended by the final semester students along with faculty members from different departments of the college. In the seminar, Ms Kalsi counseled the students about their career goals and various goal setting techniques to make the path clear for them to move on the excel. The motivational videos were shown to the students and they were informed about their technical and personality upliftment fronts. The students were informed about that how Skill Development Courses are beneficial for their Career and apprised the students about the various job prospects after doing three year diploma in Engineering. Sh. Abhishek Soni threw light on prominent themes like how to improve student's performance during interviews and comparing various career options available to them.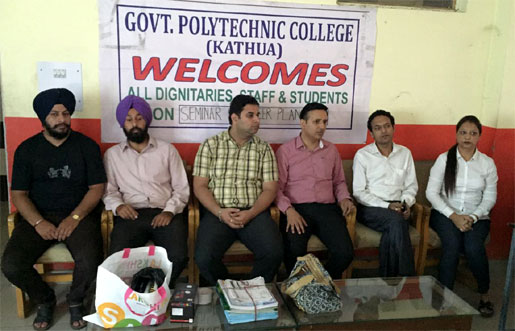 Question answer session was also conducted in which various students put quarries to the experts for choosing the career options. Speaking on the occasion, Principal Er Arun Bangotra also exhorted upon students to make their own aspirations, develop positive attitude towards their career and focus on the framed curriculum besides hard work on their academic education. He also appreciated the efforts of the external faculty from CT group of institution for such a seminar which is helpful for the betterment of student fraternity and to focus them for their better future. Among the faculty prominent present were Er Sanam Gupta, Er Sakshi Kapai, Sh Rajesh Kumar, Lecturers. At the end vote of thanks was presented by Er. Ajay Thapa, Lecturer, Mechanical Engg.