Govt. Polytechnic Kathua Organised Webinar on "Latest Technologies in Manufacturing"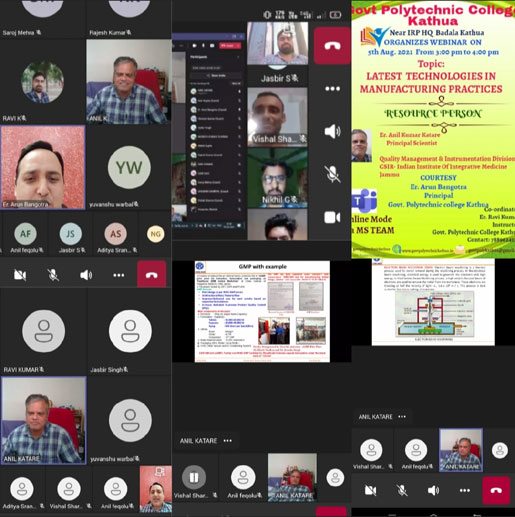 Government Polytechnic College Kathua today organized Online Webinar on Latest Technologies used in Manufacturing Industries for the students of the College. The resource person for the webinar was Er. Anil Kumar Katare, Principal Scientist, CSIR- Quality Management and Instrumentation Division of Indian Institute of Integrative Medicine Jammu. The Webinar was conducted under the guidance of Er. Arun Bangotra, Principal Govt. Polytechnic Kathua who emphasized the importance of such online webinars to make students aware of various new technologies and latest machineries and equipment used in industry for manufacturing practices.
In his presentation, Mr. Anil Kumar explained the various latest technologies in Manufacturing practices used in Industries now a days. He explained about the computerized machines and nano manufacturing used in production. He also shared the various techniques applied in GMP Plants for the Manufacturing the products from raw material established at IIIM Jammu. He also shares the placement opportunities for Mechanical Engg students in the IIIM institute after Diploma. He provided the knowledge of Quality Management and Quality Control used in the Manufacturing Industries. The webinar was attended by the faculty and the students of the Mechanical Engineering department of the college. Students listen to the speaker very carefully and interacted with the expert. After the session all students thanked the resource person and Principal and demanded for such more session in future. Er. Ravi kumar workshop Instructor Govt. Polytechnic College Kathua was the coordinator of the session and presented the vote of thanks.