Government Polytechnic Kathua Organised Various Activities during 75th Independence Day Week Celebration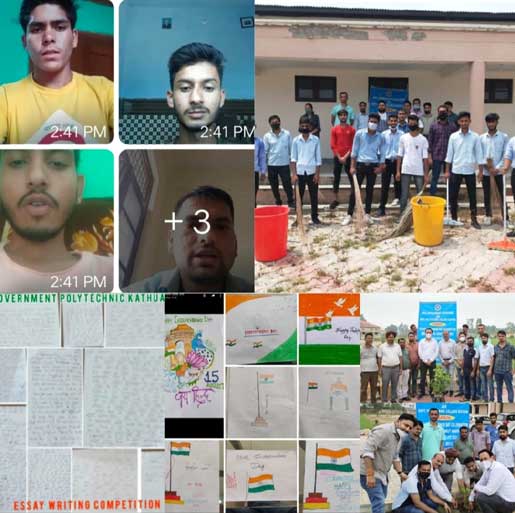 During the week long Independence Day 2021 celebrations, Government Polytechnic College Kathua organized Poster Making, Essay Writing, Patriotic Video making and Quiz Competition for the students under the banner of Azadi Ka Amrut Mohotsav to commemorate 75th year of Indian Independence. During the week Cleanliness and Plantation drive was also organized in the college campus under the guidance of Er. Arun Bangotra, Principal of the college who appreciated the efforts of all the staff and students.
In Poster Making Competition many students participated and designed beautiful posters depicting Indian freedom struggle movement. 1st prize went to Raj Rishi, student of 4th semester Mechanical, 2nd prize went to Mr Mohd. Razzaq 2nd semester student and 3rd prize was won by Hemant Kumar, 4th semester Mechanical.
In the Patriotic video making competition, 1st prize went to Madan Gopal, 4th semester Mechanical Engg while 2nd prize went to Anil Feqolu 2nd semester student, while 3rd prize went to Munish Kumar of 2nd semester.
In the Essay writing competition on Topic "India at 75: A Nation Marching towards Aatmanirbhar Bharat", 1st prize went to Madan Gopal of 4th Semester Mechanical, 2nd prize to Mukesh Kumar of 2nd Semester while 3rd prize to Bhavishya of 4th Semester Mechanical.
In Quiz Competition, 1st prize went to Team of 6th semester comprising of Narsajan, Sahil Parnallia, Yuvanshu Warbal while Team of Sourav ,Manav and Lalit stood 2nd and 3rd prize went to team of Lakhwant and Rohit. All the competitions were organized by team of faculty comprising, Mr Rishabh Gupta, Mr Vishal Sharma, Mr Ravi Kumar, Mr Munish Sharma, Mr Rajesh Kumar, Mr. Shamsher Chand and Mr. Ravinder Kumar.